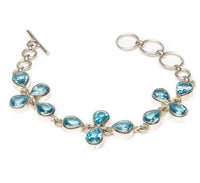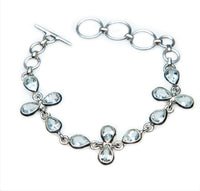 Precious Plumeria Bracelet
12 brilliant gemstones in a plumeria design for a perfect form fit!  Elegant, graceful and eye catching.  You'll be very happy.  A delicate feminine touch for the wrist.  6.5"-8"
Peridot can be found in its raw form as olivine in lava and green sands beach in Hawaii.  It is the only gemstone that can be found in its raw form in the state of Hawaii.  That is why it is known as the Hawaiian Emerald.  Precious, brilliant and vibrant, this 4 petal plumeria bracelet feels luxurious and feminine.